d j .  t o b i a s  
::  c o n c e p t  ::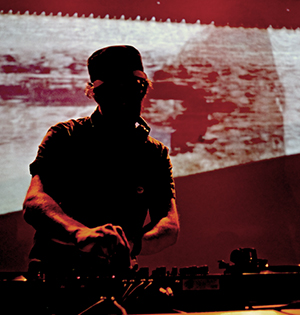 main focus: providing new and often unsettling sounds to startle the listener and to make them question the music and the intents behind it — to catalyse the experience of a musical journey, to bend and warp time into an immutable horizon through the ritual of movement.
do not believe: in "playing rekkids" or letting the software do all the work — utilize the full art of turntablism and djing to create sonic soundscapes, whether from a digital or analogue platform.
DJ BIO. Djing since 1993, tobias' style is marked by the cut-up & non-linear mixing styles of 3-deck future techno and house, from the Afrofuturist sounds of Detroit techno and electro to 21st century minimal and dub. tobias is a master selector capable of delivering all-night sets that play the spectrum of deep to bangin' styles. As a techno-turntablist he has honed his craft among radical sonicultures, seeking new & obscure sounds to move the body, always dedicated to the underground sound.
Hailing from the West Coast technoculture, tobias has dj'ed warehouse raves to logging road occupations, art galleries to festivals, from Montreal to Amsterdam, Barcelona to Berlin, playing to crowds exceeding 5000 writhing bodies.
Currently hiding out in Whistler, BC, his most recent DJ sets have introduced a minimalist sound to Diversity Festival, WinterPRIDE and Bass Coast Project. He is currently collaborating with Victoria Grace Lopez on meditation & rhythm events as the Radiant Collective.
tobias has dj'ed with the likes of Oliver Ho, Kit Clayton, Sutekh, Safety Scissors, Swayzak, Twerk, Algorithm, Mike Shannon, Noah Pred, Lotus, Cobblestone Jazz, Mathew Jonson, Donald Glaude,  Adam Marshall, Mistress Barbara, Colin the Mole, Fishead, Pheek, Deadbeat, Loscil, Kim Cascone, Tim Hecker, Tyler Stadius, Leanne, NAW and Ben Nevile.
SONIC HISTORY
Mentored by DJs Robby Luv Dub (Chicago) and Jess Conn-Potegal (Vancouver) in the aesthetics of deep house, tobias went on to discover Detroit techno, taking it as his early mission to disseminate the sounds of Afrofuturist sonics across the Pacific NorthWest region.
As a founding member of the shock surrealist outfit <ST> (1993–2001) and technoWest.org (with DJ dub gnostic), tobias instigated events exploring the masochistic & ritual atmospheres of techno along the West Coast, establishing himself as an early and militant advocate of resistance through rhythm. The <ST> flag often flew at events with NorthWestRaves, HQ Communications, B-Side, Team Lounge, LoungeX and Seattle's gr0k studios. tobias' dj sets appeared on San Franciscos's Betalounge.com and technoState, while he dj'ed with US soundsystems CloudFactory and JoyScouts. A partial archive exists at [shrumtribe.com].
As a media arts curator, tobias has curated 20 years of technoculture events and interventions. In Vancouver, tobias curated events with early editions of Vancouver's New Forms Festival, as founder of their electronic showcase (2002), VIVO's Signal and Noise Festival (2001), CiTR (1997-2002) and the Vancouver New Music Society (2002). tobias was a pioneer of mixing technoculture with emerging forms of media arts, curating the Musikal Resistance series with <ST> Collective (2000) and the Refrain series at VIVO (2001-2002).
Moving to Montréal in 2002, tobias became Concept Engineer at the Society for Arts and Technology (SAT), curating and playing at dozens of events in the 20,000 square foot media arts venue, as well as founding media arts organisation UpgradeMTL, third node in the international network of technology arts The Upgrade!. Tobias organised events, performances, and conferences with the MUTEK and MEG festivals, No Type and Intr_version records, Concordia University's Hexagram and MDCN.ca projects, technOPERA and mix.sessions at SAT, and various events at Casa del Popolo, Cagibi, Laïka and Sala Rossa.
Tobias has released four albums of experimental electronic music and space techno, working with Tomas Phillips, Katherine Kline, Martijn Comes, and Richard Chartier, as the offworld director of experimental electronic and space techno label IO SOUND.
tobias has worked with VJ Johnny Ranger and producer Daniel Gardner (aka Frivolous) on the tri.phonic performance project; microsound composer Tomas Phillips on technoOPERA and the if not, winter LP (and/OAR, 2005); and DJ Fishead on net-radio [controltochaos.ca] for Barcelona's BURN.FM – while frequently laying down the late-night deepness with Colin the Mole at various afterhours. tobias has dj'ed worldwide, from Eyebeam in NYC to Amsterdam's Melkweg and STEIM, Barcelona's Coldcreation Gallery to Noah Pred's Fukhouse night in Toronto. His last Montréal exhibition, 'espaceSONO :: audio.lab', presented 36 global sound-artists in a uniquely constructed listening environment at the SAT[GALERIE] in Fall 2007.
As a writer on electronic music culture, tobias has written for WIRE, Discorder, Leonardo Music Journal, Journal of Aesthetics and Protest, e|i, Grooves, CAPITAL, FUSE, StylusMagazine.com, DustedMagazine.com and is a regular contributor to Dancecult: Journal for Electronic Dance Music Culture [dj.dancecult.net].
Though hiding out in the hamlet of Whistler, tobias is SSHRC Postdoctoral Fellow in Communications at the University of Montréal, writing on remix culture, philosophy of technology and Afrofuturism. He can be found on twitter @fugitivephilo.
residencies
Radiant Collective Monthly at Loka Yoga with Victoria Grace Lopez (2015–16).
Elevate at Savage Beagle, with Stevie James and Miss Kosmik, Whistler (2010).
FullPleineMoon, Montréal (2005-2008).
UpgradeMTL at SAT, Montréal (2004-2008).
mix.sessions at SAT, Montréal (2003-2007).
[untitled] at Laïka, Montréal (2004-2007).
control.to.chaos at various locations, with Fishead, Montréal (2003-2006).
No Type & intr.version showcases at Casa del Popolo & Sala Rossa, Montréal (2003-2005).
tri.phonic at SAT, with Daniel Gardner and VJ Johnny Ranger, Montréal (2003).
Refrains at VIVO, Vancouver (2001-2002).
Tapestry at Sugar Refinery & Fiction, with Ben Nevile and Construct, Vancouver (1999-2001).
Chaos Theory at Celebrities, with Jereme Oliver, Vancouver (1999).
Fusion at Savoy, Nanaimo (1998).
Knee Deep at Sugar Refinery, with Robby Luv Dub and Jess, Vancouver (1997).
festivals

BELIEVE Freedom Festival (Callaghan Valley, 2013), Bass Coast Project (Squamish BC, 2009), WinterPRIDE (Whistler, 2009, 2010, 2013), Diversity (Texada Island BC, 2009), MUTEK (Montréal, 2006), No Placard (Montréal, 2006, 2008), Upgrade International (New York 2005, Oklahoma 2006), Sonic Acts (Amsterdam, 2004), Off Sonar (Barcelona, 2003, 2004), MEG (Montréal, 2003), FCMM (Montréal, 2003), New Forms Festival (Vancouver, 2002), Vancouver New Music Festival (2002), Signal and Noise (Vancouver, 2001), EcoFest (Vancouver, 2000), Phoenix Festival (Oregon, 2000), OODE (Oregon, 1998, 1999).
radio 
online broadcast
ION STORM / DERadio.ca (2013–2015)
control.to.chaos / controltochaos.ca / BURN.FM / Blentwell.com (2003–2006) (with DJ Fishead)
target.circuitry/ targetcircuitry.com (2000–2002) (with Ben Nevile)
resistance radio / shrumtribe.com (1997–2000)