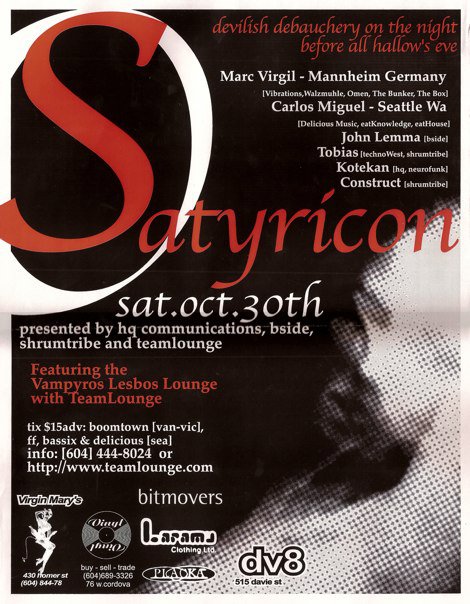 SATYRICON (1999)
CD release (50 copies).
CD featured excerpt of electro mix by DJ Construct.
74 minutes (36 minutes / set).
Recorded live at SATYRICON, 10.30.1999.
Whenever fully naked, gold-and-silver painted sprites & nymphs appear randomly at your event, you know that something is going right with the world…. Held at the Theatre E on East Hastings street, an old, two-level film theatre, SATYRICON signified one of the greatest collective efforts of Vancouver's underground technoculture collectives. The HQ Communications, X-Max and B-Side soundsystems combined into a heavy-hitting quadsystem that shook the dancefloor to pieces. TeamLounge and HQ Communications provided jungle & ambience in the bunker. Visuals were projected against the massive film screen. Exquisite roman orgy decorations from Angelika & crew at B-Side created a completely immersive environment. Massive flamethrower heaters kept everyone hot — clothes were stripped. It was one of the most successful independent, bohemian, conceptual raves of the era, and it signalled, for many, something of its end.
tobias.dj
April 2012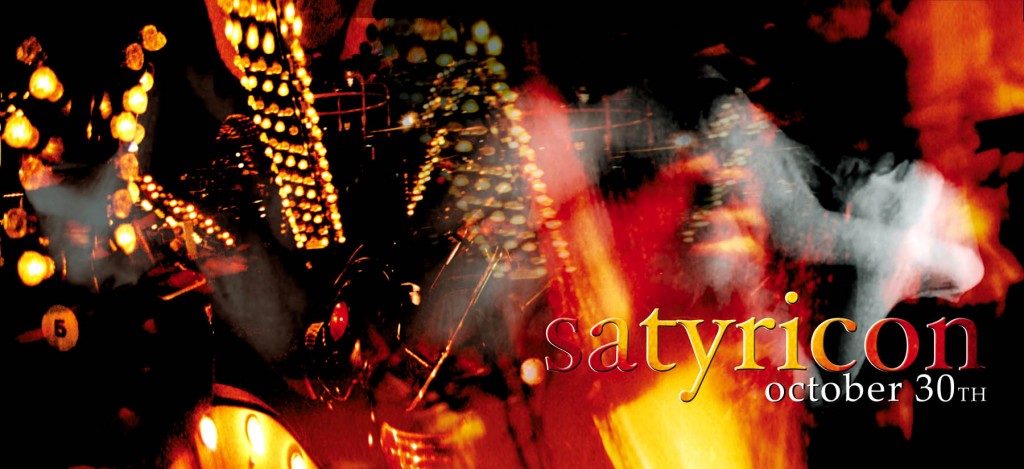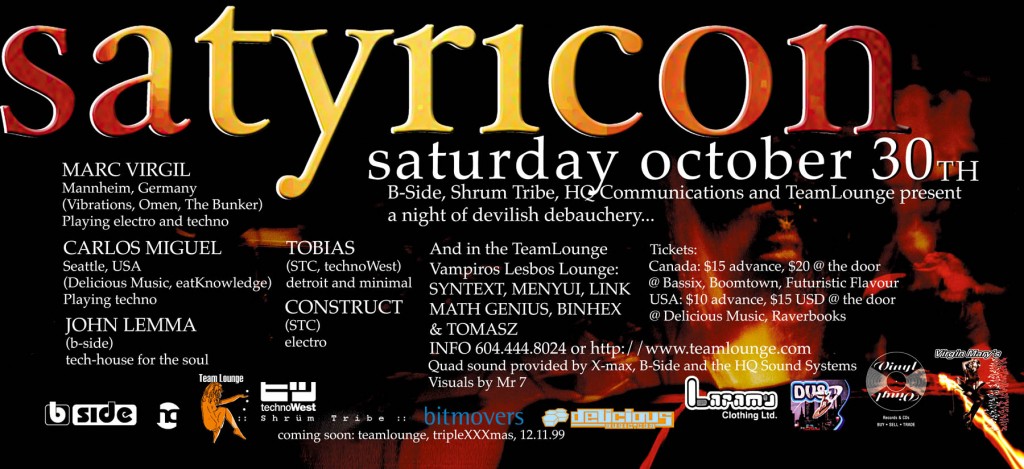 B-Side, Shrum Tribe, HQ Communications and TeamLounge bring you the night of Roman orgy and exploration~
~SATYRICON
in the roman orgy arena:
MARC VIRGIL
mannheim, germany
(Vibrations,Walzmuhle, Omen, The Bunker, The Box). Playing electro and techno.
CARLOS MIGUEL
seattle, usa
(Delicious Music, eatKnowledge, eatHouse)
Playing techno.
JOHN LEMMA
tech-house for the soul
TOBIAS
(ST, technoWest)
detroit and minimal
CONSTRUCT
(STC)
electro
in the lounge of los vampiros lesbos:
SYNTEXT, MENYUI,
MATH GENIUS, BENHIX, TOMAZ
.ambience from teamlounge.
~quad sound in the main room featuring the X-Max and B-Side soundsystems in their first ever sound-pairing with contra-bass bins
~visuals on the giant screen including, yes, the movie Fellini Satyricon
~special horror effects make-up for participants
**TIX**
**limited tickets:
no guarantees at the door
Canada: $15 advance, $20 @ the door
@ Bassix, Boomtown, Futuristic Flavour
USA: $10 advance, $15 USD @ the door
@ Delicious Music, Raverbooks
INFO 604.444.8024
.there are no rumours about this event.
.only facts.
~SATYRICON~